Its report, "10 Business Trends For 2020," outlined the hows and whys of changes to the industry, with an eye on the future.
Here are five takeaways, and how to plan your travel accordingly.
1. Face-to-face meetings still matter.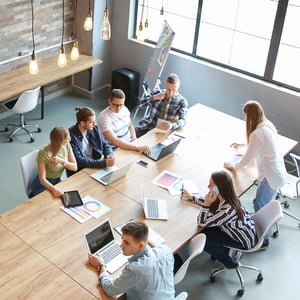 Given the advances in technology that have made a Topeka-to-Tokyo meeting possible without stepping on a plane, one would think businesses would prefer video conference calls to costly business trips.
But what may be better for the budget, in the short term at least, is not better for the business: 81.6 percent of business travelers and 79.1 percent of corporate travel managers polled agreed that "meeting in person is more effective than meeting virtually." The same groups believe that business travel is important for company growth—business travelers, 91.3 percent; travel managers, 90.6 percent.
The adage, "business is done on the golf course," rings true here. In-person meetings offer flexibility that video conferencing doesn't allow for, such as a good handshake or an ice-breaking joke that puts the room at ease.
Then there are opportunities for bonding: happy hours, dinners, lunches, coffee breaks, events big and small that can make all the difference in your work relationships.
2. End-to-end experiences are coming.
As business travelers grow more frustrated by booking services' lack of response to flight delays and cancellations, these same agencies have vowed to be better. The Skift report suggests companies that deliver end-to-end experiences--from booking to travel to follow-up--will get a leg up on the competition in 2020.
That's something to watch for in the next few months. But delays and cancellations will still happen, and there's no guarantee the solution you get is the one you want.
In other words, it's good to still plan ahead even as the technology improves. Pick flights that fit a wide, flexible schedule. Set aside tasks—or entertainment options—for longer layovers. Keep in touch with your airline or booking agency before you head to the airport.
End-to-end service is fantastic. So, too, are secondary plans.
3. Sharing services rise in popularity.
Whether it's out of habit or in search of a more familiar environment, business travelers continue to choose "sharing" options over more traditional ones. That means they're requesting Lyfts and Ubers—No. 3 and No. 1, respectively, in terms of most-expensed brands—instead of cabs.
They are not, however, renting Airbnbs. Road warriors value their hotel loyalty points, and the variables of staying at an Airbnb (or similar setup) keep business travelers away, especially if they're spending most of their time in convention centers and meeting rooms.
That doesn't mean you shouldn't consider shared spaces for lodging. Road warriors may find them nice changes of pace compared to downtown hotels.
Do what you feel is right. Part of succeeding on the road is being comfortable on the road. If that's hotels for you, great. If you prefer a more residential environment, don't be afraid to explore share options.
4. Bleisure travel is in.
You can't talk about business travel in 2020 without talking about bleisure travel—business trips that include a leisure element. This may include an extra night at a destination or an excursion to a nearby attraction.
No matter what it entails, bleisure travel has its advantages. Studies suggest professionals who participate in bleisure travel enjoy a better work/life balance than those who don't. Bleisure travelers also tend to be more productive on their trips.
So, yes, you should consider bleisure travel in 2020. Just know it comes with added responsibility. Be disciplined and stick to your work schedule. Track your expenses thoroughly and honestly.
For those who can't afford to take their time getting home, bleisure travel doesn't need to be a big thing. A stop at a local coffee shop or dinner at the hottest restaurant in town can be welcome departures for business travelers.
5. Build eco-friendly habits.
Business travelers, some 80 percent according to the Skift report, are concerned about how their travel impacts climate change. They're not alone, and some big names have taken steps to reduce their own carbon footprints. Celebrities like Coldplay frontman Chris Martin and climate activist Greta Thunberg have vowed to avoid flying entirely.
You, likely, can't make the same pledge. What you can do is make decisions that are better for the environment. While no airline received an "A" grade in the 2018 atmosfair Airline Index, Delta landed in the top 10 for short-, medium-, and long-haul flights—the only American airline to earn that distinction. So if Delta is an option, choose Delta.
On the ground, make it a habit to walk distances of a mile or less. If your destination is further than that, consider renting a bike or scooter in lieu of driving.
Finally, if you're traveling between major Texas cities—Austin, Dallas, Houston, San Antonio—ride-share company ElecTrip offers Teslas to drive the distances. It'll cost you time, but you'll be supporting a company that has the environment in mind.