2. Pack hand sanitizer & disinfectant wipes.
Did you know that seat-back trays carry the most germs of any area of the plane? That's not something travelers tend to prepare for, but they should, to avoid catching the common cold (which frequent flyers are more susceptible to). Here are some quick solutions to stay sniffle-free:
Pack travel-sized disinfectant wipes, such as these from Clorox, in your carry-on bag. Wipe down your armrests and tray table once you're settled.
Once you arrive at your destination, make it a habit to apply hand sanitizer when you enter and leave locations.
No one's saying you have to turn into a hypochondriac, but you can never be too careful. After all, colds are miserable, work-killing ailments.
3. Plan ahead to eat healthy.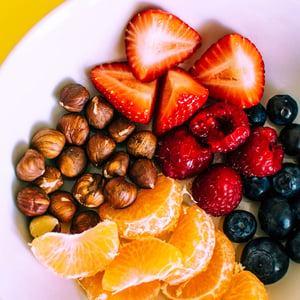 Airport bars and restaurants tempt you with comfort food—a greasy burger or chicken tenders really hit the spot during a long layover. But that's not the healthiest way to live, even if it is satisfying.
Skip those added calories by eating a full meal before you head to the airport and packing healthy snacks. Protein bars, nuts, dried fruit, and apples make for great on-the-go food that won't leave you feeling guilty (or lethargic, for that matter).
When at your hotel, research healthy restaurants nearby, or listen to the advice of noted traveler Emmitt Smith, who recommends ordering room service—grilled chicken or fish—to stay consistent with your diet.
Finally, you could consider downloading a calorie-tracking app (MyFitnessPal is a popular one) to make sure you're maintaining good eating habits.
4. Make time to exercise.
Technology is a wonderful thing. With a smartphone and a fitness app (like 7 Minute Workout) you can turn your surroundings—a quiet airport terminal, your hotel room, a city park—into your own personal gym. In less than 10 minutes, you can burn calories and relieve stress without disrupting your day.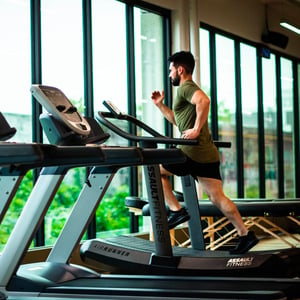 For the more fitness-inclined, plan an early morning or post-work workout in the hotel fitness center, most of which are open 24 hours and fairly comprehensive. If you want to escape the hotel, there are Planet Fitnesses everywhere, and a Black Card gives you access to almost all of them. Or find a local running group that enables you to explore a city while exercising.
Whatever you choose, a good sweat goes a long way in keeping you physically and spiritually healthy.
5. Reduce the effects of jet lag.
Jet lag doesn't always take effect after continental travel, but a switch of coasts can lead to grogginess. From the Mayo Clinic:
Jet lag can cause daytime fatigue, an unwell feeling, difficulty staying alert and gastrointestinal problems. Jet lag is temporary, but it can significantly reduce your vacation or business travel comfort.
A trip from New York to San Diego, and vice versa, at the very least, slows you down. So how do you combat it?
Stay hydrated.
Set your clock to your destination's local time before you leave. If you land during the early evening on the West Coast, do your best to stay up to your "normal" bedtime.
When should you sleep on long flights? It depends on the time and your destination. For example, if you're leaving L.A. at night and heading east, sleep. If you're going the other direction, stay awake. In other words, match your behavior to the local time.
6. Listen to your body.
Only you know exactly how you feel. If you are feeling groggy or sense a cold approaching, take some time to ease back into work. Strongly consider taking a half-day before or after your business trip to allow for recovery.
You could also schedule to arrive in a city one or two days ahead of schedule. This not only helps you adjust to any time-zone change but also gives you the opportunity to add a bleisure element to your trip. Studies show bleisure travelers enjoy a better work/life balance than non-bleisure travelers, and tend to be more focused on the road.